IT'S THE WINTER OLYMPICS. THE OLYYYYYYMPIIIIIIIIIIIIICSSSSSS!
Ba da da da da bididi ba da da da da da BWAAAAA 
I am no athlete but damn, I love me some workout playlists. I use them when I clean my house or to energetically soundtrack my walks to the grocery store…
Like I said, I am no athlete.
But now it is the Winter Olympics. A precious time when all Americans suddenly become experts in sports they completely ignore for three out of four years, and everyone tries and fails to land a triple salchow in their living room.
Luckily, I have some friends who were willing to give me input on what athletic types like/want when they work out, and I tried to keep the BPMs between 90-180 increasing as the playlist goes along so you can skip ahead to wherever you like your BPM or whatever athletic people do*. At the end, there are two MAGNIFICENT triumphal fanfares to send you off as a true hero of sport, or at least, a sporty attitude.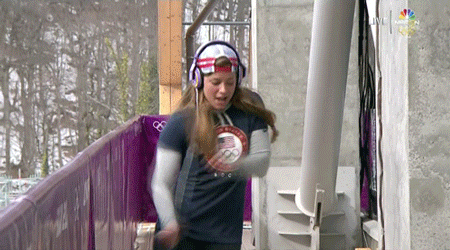 Here's the list, Spotify link** at the bottom
Olympic Level Workout Fodder
Mlada Suite: 5. Cortège –Rimsky-Korsakov  (So you can Olympically process into whatever you're taking on and/or warm-up)
Peer Gynt: 8. In the Hall of the Mountain King – Grieg
Die Walküre (The Valkyries): Act III "Hojotoho!" – Wagner
Sylvia: Act III "Cortège de Bacchus" – Delibes
2-Part Inventions, BWV 779: Invention no. 8 in F major – J.S. Bach
Violin Concerto in D Minor, No 3. Allegro, ma non tanto – Sibelius
Ercole sul Termodonte (Hercules in Thermadon): "Non fia della vittoria" – Vivaldi (May no cloud of cruelty ever overshadow the pride of victory.The glory of winning is enough, and that glory shall be mine.)
I Masnadieri (The Bandits): "Carlo vive?" – Verdi (lyrics are…less applicable here)
Petrushka: Russian Dance – Stravinsky
Swan Lake: Act III, No 21. "Spanish Dance" – Tchaikovsky                                          
Concerto in F: III. Allegro agitato – Gershwin
Symphony No. 4 in F Minor, 4. Finale – Tchaikovsky
4 Dance Episodes from Rodeo: Hoe-Down – Copland
Violin Concerto No 2. The American Four Seasons: Movement III– Glass
The Rite of Spring, Part 2: The Sacrifice, III. "Glorification of the Chosen One"– Stravinsky (…real quick…everyone knows about THIS VIDEO right?)
Swan Lake (yes, again. It's peppy as hell) Act II, No 13 Coda: Allegro vivace
Symphony No. 6 in C Major, "Dollar Symphony": III. Vivace – Atterberg
A Midsummer Night's Dream: Overture – Mendelssohn (if you don't pretend to be a fairy during this music, you're doing it wrong)
Die Fledermaus (The Bat): "Im Feuerstrom der Reben" ("In the firestorm from the vines") (That hyperbole is about champagne as is the whole thing. There is a *primo* fist pump moment in each verse too. DIY instructions at the link)
Double Bass Concerto "The Wolf" III. Allegro vivace – Tan Dun                                   
Symphony No 25 in G Minor, I. Allegro con brio – Mozart
Auf der Jagd (On the Hunt) – J. Strauss II (There are "gunshots" on this so fair warning, it might be confusing if you're training for a biathalon while listening to this)
Flight of the Bumblebee – Rimsky-Korsakov (I went with the violin version, but you could have an orchestral version, a brass version, a choral version, a flute version, a piano version…
Michelangelo '70 – Piazzolla
Concerto Fantasy for 2 Timpanists and Organ (arr. M. Lortz for 2 Timp & Wind Ensemble) III. – Glass
 "West Side Story" Symphonic Dances: 4. Mambo – Bernstein
Estancia Ballet Suite: 1. "Land Workers" – Ginastera

(The rest of the playlist is longer form, less regularly rhythmed pieces, but  pieces that people informed me they actually exercise to) 

Il barbiere di Siviglia (The Barber of Seville): Overture – Rossini
Marche Slave – Tchaikovksy
Romeo and Juliet: Act 1: "Dance of the Knights" –Prokofiev
Symphony No. 2 in C Minor "Resurrection": 1. Allegro maestoso. mit durchaus ernstem und feierlichem Ausdruck (with serious and solemn expression throughout) – Mahler
Symphony No. 5 in C Minor: IV. Allegro – Beethoven

YOU DID IT!!!!!!!!      LET'S TAKE YOU OUT WITH A FANFARE OF GLORY           

Sinfonietta: 1. Allegretto-Allegro-Maestoso – Janácek
 *super secret bonus track*
Good luck to all of you actually training your bodies to be strong and impressive, and a special shoutout to the rest of us participating in the daily Olympics of the modern world who just need some motivating music. Heck, maybe I'll even do a pushup today.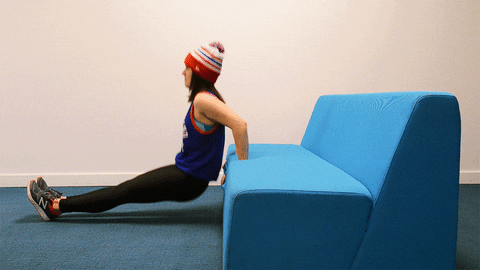 *If I am really on top of it all I hope to have some shorter, genre/era specific playlists too so if you're dying for a minimalist/baroque/opera/20th century percussion ensemble workout playlist LEMME KNOW IN THE COMMENTS! There are some very nice viagra salesbots down there  you can meet too.
***Making youtube playlists takes forever so if anyone actually wants one, please be the first non-sex-robot to leave us a comment and I will make it just for you, until then, Spotify takes the gold.